CVE Reporting
CVE Reporting has ben added in release 2.7 of OCS Inventory. By enabling this feature, OCS Inventory can automatically query a CVE-search server for vulnerabilities that may apply to your inventoried softwares.
Warning : CVE Reporting is a feature for informational purposes. OCS Inventory does not guarantee the accuracy of the informations provided.
Prerequisites
In order to use CVE Reporting feature, it's recommended to install CVE-search server.
To install and configure the CVE-search server, please refer to its documentation : CVE-search.
Configuring the CVE-Search management
As administrator, go to the menu Configuration > General configuration, and click on the "CVE-search management" entry in the left navigation pane:

There are 3 settings :
VULN_CVESEARCH_ENABLE : Define wether the integration is enabled or not (default : Disabled);
VULN_CVESEARCH_HOST : Define the URL of the cve-search server to be queried.
VULN_BAN_LIST : Select software categories that you do not want to process. When a sofwtare category has been added to VULN_BAN_LIST, All CVE for software in this category will not be processed by OCS Inventory.
Note : You may use https://cve.circl.lu if you don't host any cve-search server. However, we don't recommend using it because it can lead to network bottleneck and security breach.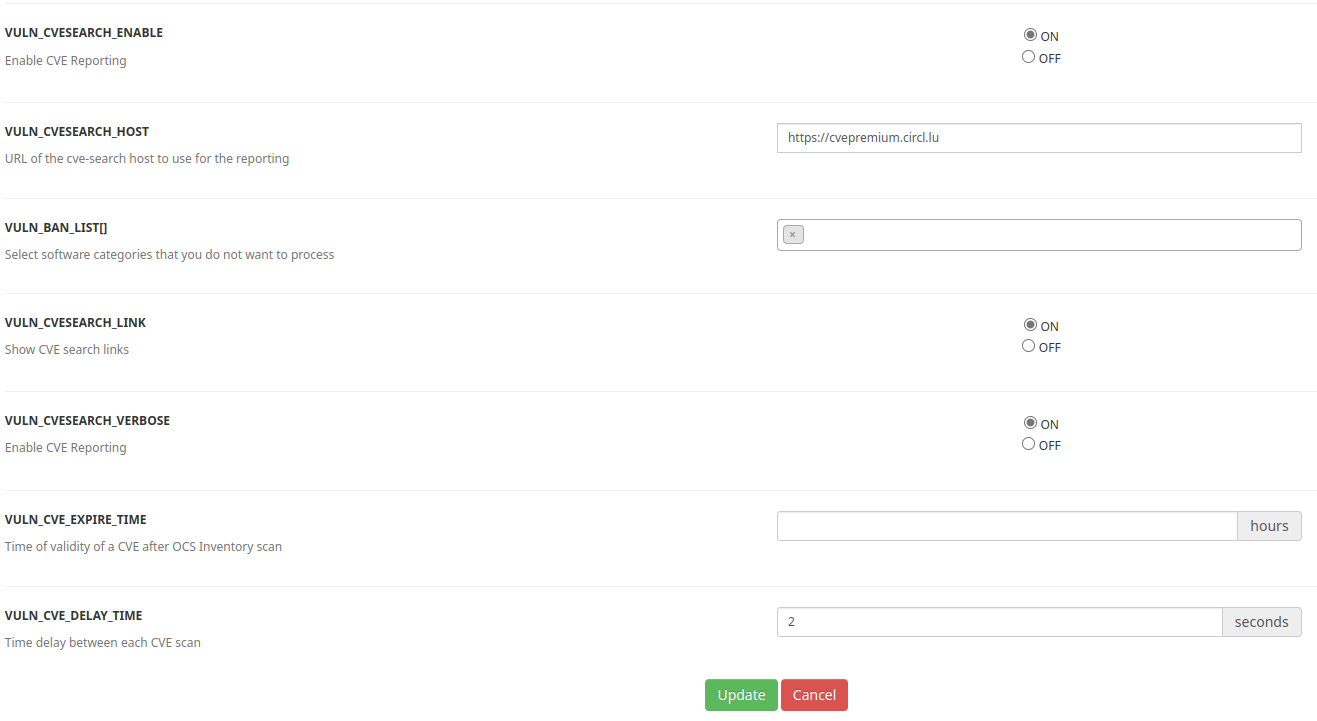 Configure CronTab
In your server, configure a CronTab to call the file cron_cve.php in
cd /usr/share/ocsinventory-reports/ocsreports/crontab/ && php cron_cve.php

cron_cve.php call cve-search server and get all CVE by software publisher, name and version.
To clean CVE, configure a CronTab to call the file cron_clean_cve.php
cd /usr/share/ocsinventory-reports/ocsreports/crontab/ && php cron_clean_cve.php

cron_clean_cve.php get all CVE who has been inventoried in OCS Inventory by cron_cve.php and call cve-search server to know if CVE still exist. If not, CVE will be remove from OCS Inventory. cron_clean_cve.php also cleans CVE of unwanted software belonging to software categories listed in VULN_BAN_LIST.
Note: It's recommended to execute the crontab at night. The cleaning crontab shall be executed at least every month.
Features
When CVE-Search has been enabled and crontab cron_cve.php has been executed, click on Inventory > CVE Reporting.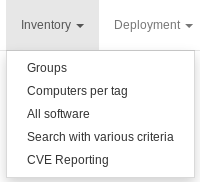 CVE Reporting displays all CVE in association with software and their versions already inventoried by OCS Inventory. Here are the different informations displayed :
Publisher
Software name
Targeted software version
CVSS (vulnerability score)
CVE ID
Link to CVE reference (only the first reference is shown)

You can display all CVE or click on left navigation pane to see CVE by vulnerability score.
When you click on the software name, you will be redirected to a search reporting based on the software name.